Whittingehame Club
September 20th, 2018
Jacob Israelachvili
Dear all,
Many of you knew Jacob Israelachvili.
Very sadly, he passed away yesterday at his home in Santa Barbara.
Yours,
Jacob Klein

A superb sportsman and one hell of a nice guy - "I will remember".
Mo

A prominent physicist, chemical engineer, material scientist and inventor, Jacob Israelachvili was a research professor emeritus at UC Santa Barbara, where he had taught since 1986. (Israelachvili Family photo)


It's so sad when this happens, May Jacob Israelachvili. Rest in peace. We should enjoy every day. Haim Klein

A brilliant scientist and greatly admired. With much admiration for the achievements he was so proud of,
Louis Mandel
May he Rest In Peace. Elie Romano

I must admit that I have not seen Jacob since we left school. Our paths did not cross unfortunately but my school memories of Jacob are very vivid.

Whittingehame College was indeed a very special school and all of us have many anecdotes and stories to tell, but there are some that mark you more than others and it is true of our school peers and friends. Jacob was one of the classmates that you would not be indifferent to. A very bright fellow and he would do all he could to be first in all sciences .He was a keen boxer and sportsman. He was also a comic, a good laugh. I remember him too well in the First President play 1962 , where he played Chaim Weizmann.....was that already predestined ; that he would one day be as a great a scientist as the character he was playing? It is a great loss , a school friend and classmate.

To his wife, family, and sister Etty , I wish to extend my most sincere condolences and wish them courage as they endure the grief of such a great loss.
From one whitnik to another
Yehi Zikhram Baruch

David Azagury

Jacob (left) in the 1962 school play
"The First President"

Jacob Israelachvili 1944-2018
I wonder how many old boys remember that Jacob Israelachvili was in Balfour House.

In 1957 Jacob was in the Middle School and I was in the 6th Form. As a House we were at the very bottom of the league at sports and for the Festival I realised we had to do something. To win as many points as possible I decided I had to have someone to work with to enter the creative and written competitions, before the on stage performances started. I chose Jacob for this. We divided all the competitions we thought we could enter between us and set to work.

Jacob was easy to work with. Always smiling, he didn't argue back and he was willing and co-operative. He would simply go away and a few days later return with what he had produced. I remember he did the Geometrical Drawing whatever this means. I did the crazy things like art appreciation and poetry writing.

At meal times, before the Festival began the other School Houses were always announcing Choir rehearsals. Of course we were doing nothing so I set up three emergency last minute rehearsals in the Cadet Hut. All I said to the lucky choir victims was "it does not matter how you sing or what you sing. Just belt it out as loud as you can; throw your voices to the back of the Hall and be enthusiastic." We won the Choir competition.

The choirs sang towards the end of the Festival when the House scores were mounting up and the end of the Festival was just in sight. When we won the Choir competition Balfour House went wild. The mood was electric. It was an exhilarating and uplifting moment.

And we won the Festival.

I did not realise it then but not everyone is like you Jacob. Thank you for everything you did.
Leslie Brown (1947-1958)

Whittingehame College 1957 Festival results
Geometrical Drawing 1st Prize Jacob Israelachvili
Lyric Verse 2nd Prize Jacob Israelachvili
Satirical Verse 2nd Prize Jacob Israelachvili
---
August 1st, 2018
Whittingehame 2019 Reunion
The dates of the reunion are from Friday to Sunday,

June 28/29/30 2019

The venue is the

Hilton Metropole Brighton Hotel

We are planning to have a fun filled 3 day event starting Friday night, June 28th and ending late afternoon on Sunday June 30th. Program details have not yet been finalized and will depend on the number of participants. Details will be posted here and forwarded to you by email early next year. We recommend arrival Friday afternoon and departure either Sunday evening or Monday morning.
Special rates have been secured from the hotel for our stay. Rates for room & breakfast start at UK £121 + tax (20%) for a single occupancy and £121 + tax (20%) for double occupancy. The number of rooms at these rates are limited, so the sooner you book the better. Please not that this time of year is high season for Brighton weekends and we may have problems securing additional rooms at the last moment.
Here is your link for room reservation with our special rates.
book your stay now for the Whittingehame club

27 Jun 2019 - 01 Jul 2019
| | | |
| --- | --- | --- |
| <![if !vml]><![endif]> | | <![if !vml]><![endif]> |
Hilton Brighton Metropole
Kings Road, Brighton, BN1 2FU, United Kingdom
tel: +44-1273-775-432
Please note that this rate can be cancelled free of charge until 28 days prior to arrival.
27 Jun 2019 - 01 Jul 2019
| | |
| --- | --- |
| Download the app, earn points, choose your room and customise your stay. | Visit explore.hilton.com and get inspired. |
Please note:
We probably have old unused email addresses of many Whitniks. Please help us get to everyone by calling your friends to find out if they have received an email of this announcement. If not, click Contact Us on the left and forward their email to us. We will then forward a copy of this announcement to them.
See you soon in Brighton

Organizing Committee
---
June 30th, 2018
Zigi Gonczarowski

Zigi's sudden passing was very sad news. You could always count on meeting him at the reunions with a joyful greeting. He will be missed.
Louis Mandel

A good friend, smart, generous, well educated and knowledgeable in countless fields. You could strike up a conversation with him on almost any subject and he would surprise you with his profound knowledge.

He was a great father and an even greater granddad - he loved to talk about the fun he had with his grandchildren.

I could go on and on, but you'd probably think I am exaggerating.

Leo Gitbud

Zigi and I were best of friends. Not only was he my best friend ,he and his wife Nira were best friends of my wife Nurit and I. Over the years, we have shared such wonderful memories all over the world. In fact, we were like family.

Zigi was also a leader in our Israeli group of friends, which includes many Whittingamians. We had regular Wednesday evening outings with the boys ,as well as Friday sailings on Zigi's boat.

Not only was Zigi super smart, intelligent and a great business man, he was also a perfect gentlemen and a mensch! He was also known for his conspiracy theories which nobody could prove... With all those qualities, he was such a humble person!

His first priority was always his family and then his many friends, who all share the utmost respect for him. Among his many virtues, I'd like to point out his generosity- contributions, donations and helping out friends. He would never speak about this openly, but I am aware of his many good deeds.

We shall all miss him tremendously.
Yasha Sutton
---
September, 2017
Freddy Zelouf
We are very sorry to have to inform you of the passing of Mr Freddy Zelouf.

The funeral will take place today, Thursday 14th September, 4.00 pm at Edgwarebury Lane Cemetery.

We send our deepest condolences to his wife Aida, his children Philip, Diana and Jack Zelouf.
His brothers Danny and Albert Zelouf, sisters - Amira Shamash and Yvonne Shashoua.
We wish all the family a long life, free from further sorrow.
---
April 20th, 2017
Eric Shanes
It is with sadness that I write to you of the passing of Eric Shanes. Many of us remember him from the reunions and his book "Jake's Legacy", which can be found online, here on this site. Eric attended Whittingehame from 1956-61.
A full page obituary in the Times highlighted Eric's achievements in the Arts and Literature. He became a leading authority on JMW Turner and his life story makes interesting reading.
| | |
| --- | --- |
| | Eric Victor Shanes was born in Bedford in 1944 into a family with Russian-Jewish heritage. His father, Mark, and mother, Dinah (née Cohen), ran a newsagent's. His autodidactic father greatly valued education and made considerable sacrifices to send him to Whittingehame College, Brighton, a boarding school for Jewish boys that had been founded in 1931 by Jacob Halévy, an eccentric figure and a passionate Zionist. Most of the pupils came from Middle Eastern countries and the first language of many was Arabic, followed by French and Hebrew. One master, John Murry, the son of the literary critic John Middleton Murry, quoted in Jake's Legacy, Shanes's history of the school, recalled that the "roll call sounded rather like a cast list for a production of Arabian Nights, with its Abdulezers, Alaghbandzadehs, Djanoglys, Behroozis, Atraghjis and Ebrahimzadehs". |
---
February 14th, 2017
It is with deep sadness that I bring you the news Eldon Smith passed away this morning (14th February) aged 97. He died peacefully in his sleep. The school and the club were an enormous part of his life and I know that you all meant a lot to him. Please pass this message on to others who may not be part of this group. I shall post news of the funeral arrangements once they are in place.

Owen Holmes
Tribute to Eldon Smith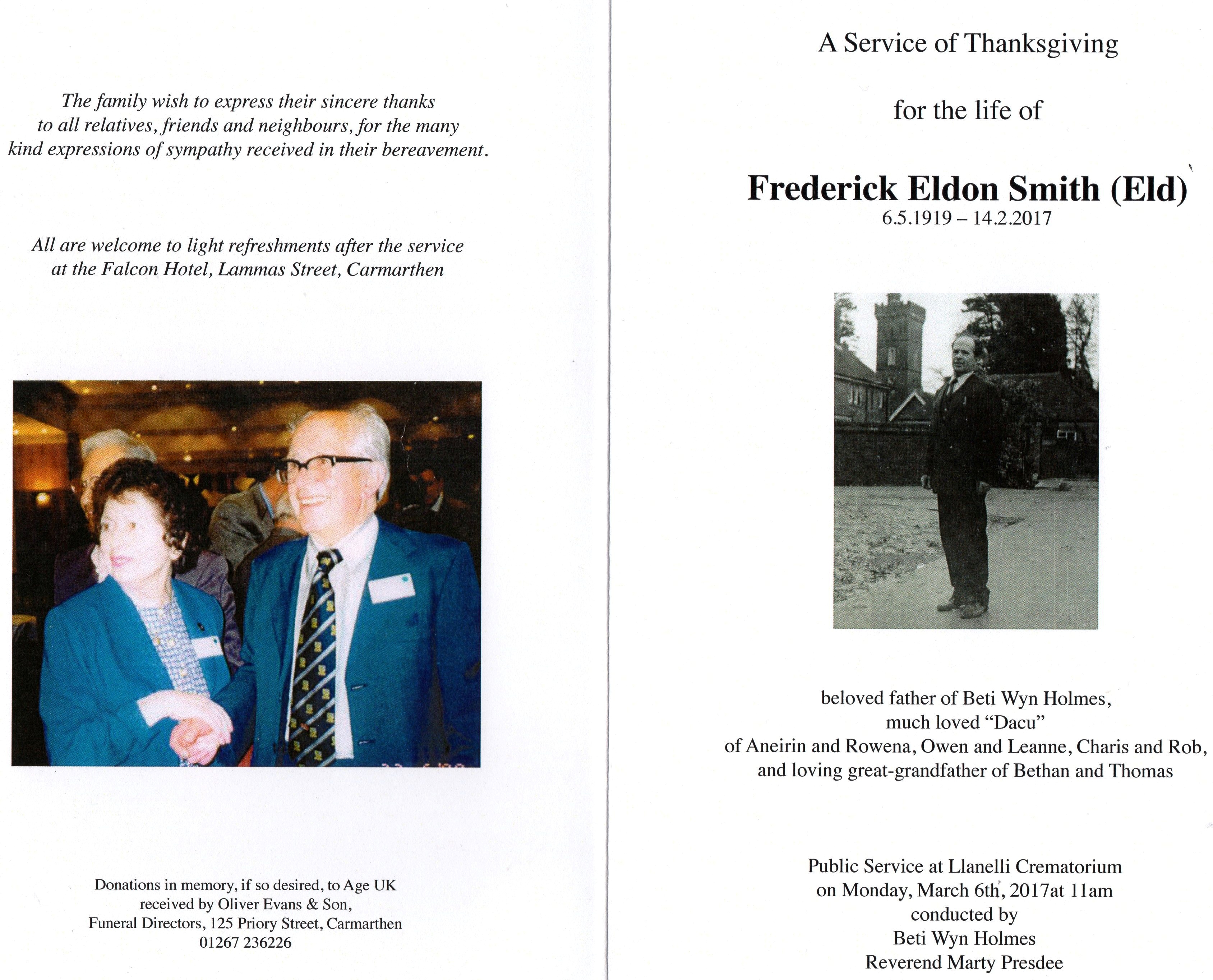 All,
Thank you so much for your very kind words - I feel so privileged to have had Dacu as my grandfather. Edward, your description of that time is particularly moving, bringing back wonderful memories of visits to their house in Carmarthen and enjoying those same quizzes and riddles as a teenager.

The funeral will be at Llanelli Crematorium on Monday 6th March at 11am. There will also be a webcast if you aren't able to make it in person (I think he would have approved of this, though I can tell you that trying to explain how such things are possible was a bit of a challenge!)

As a family, we'd like to encourage donations be made to the charity Age UK (http://www.ageuk.org.uk) in his memory.

Kind regards,
Owen Holmes

Dear All,
Eldon was truly an amazing man.
Joan and I had the privilege of having Eldon and Ella stay with us in our house in Chappaqua NY for six weeks about 25 years ago. Ella had to have an emergency procedure at White Plains Hospital NY and she was hospitalized for an extended period.

Those weeks were magnificent. I used to drive Eldon to the hospital every day and I had him all to myself. White Plains court house is next to the hospital. After visiting Ella, he would sometimes go to the court house to observe on going trials. He would then discuss it with me on the way back in the afternoon. Eldon could have been an excellent lawyer!!!

Never to be forgotten.
My children couldn't wait for dinner time every day to have Eldon entertain them with all interesting quizzes, riddles, stories and of course jokes. And all the time he wouldn't stop drinking his favorite black tea. ( maybe his secret to longevity). It was an amazing time and we really got to know him very well. We were so sorry when Ella and Eldon had to go back home.

Eldon will be missed but the world that knew him is so enriched by his soul.
May we remember him with all the respect and affection he deserves and be grateful that our paths crossed at Whittingehame.

Best,
Edward Cohen.




Eldon Smith was the best teacher I ever had in 18 years of schools/colleges/universities, and it's not even close. He mastered VR (Virtual Reality) fifty years before the high tech industry discovered it: who can forget his history classes, where he so vividly brought us into the midst of the demise of the Spanish Armada. He was a hard but fair task master, both at school and outside, chasing us through Preston Park or Andy's and the Jazz Club, like a mother hen protecting its young and ignorant chicks from our own follies. And, he kept us all together for many years past the passing of Jacob Halevi and the passing of the many amazing teachers they recruited to teach that strange conglomeration of kid characters from all around the world. In return I think we all repaid Eldon and Ella with our deep affection to both of them, on a level that few assistant headmasters ever experience.

Indeed, as Chvili says, Eldon's passing is the end of an era, or at least the beginning of the end. Hopefully the unique bonds between us remaining Whits will continue in the coming years.

Thank you Eldon, and may you rest in peace.

Eli Harari.

I was at Whittingehame for 10 years, from 1952 to 1962. Eldon was a

constant feature of our lives in these formative years, and continued

to be after I left -- until now. It is the end of an era that has

spanned three quarters of my life, and of many others.

-Jacob Israelachvili (or just "Chvili !" to Eldon).




My deepest condolences to his family and to all the Whitts

that were like his children.

May he Rest In Peace.

Lupe Mann

I am extending my deep sympathy to Owen Holmes for your loss.

Eldon Smith (Zichrono le Bracha)
A most amazing giant of a MAN who we were privileged to know.Mr. Smith's leadership and devotion to education and humanity directed, civilized and educated us. After the school closed, he was able to revive it through his persistence. He devoted time and effort to find us and create the ever-special Whittingehame club, which gave us the pleasure of meeting our school friends and keeping our friendships alive.

For this, I will always be grateful and indebted to Eldon and Ella. May Eldon's soul rise (have an aliya) and together with Ella find rest in peace in heaven.

Tony Lev (Anton Loew)

I came to know Eldon much better in the years after I started publishing this website. Whenever photos were posted, it would be followed by a stream of emails from Eldon detailing who was who on each photograph. It didn't matter if the pictures were from the 1930's or 1960's, for over a period extending almost 4 decades, he had managed to remember all those names and faces. Still more remarkable, he would know who was friendly with whom, what their academic and sporting accomplishments were and what and where they perused their careers and businesses after they left the school. I always imagined that Eldon must have had some little red book where he noted down all these facts. It just didn't seem possible that a person could absorb and remember so many details.

With Eldon's passing we have truly lost a teacher, mentor and friend.
He will be missed.
Louis Mandel










---
---
Previous Announcements