---
---
November 17th, 2005
Report Eilat 2005
The Eilat Re-union in October was a great success, as usual, though attendance did not reach the numbers we hoped for. There was representation from nearly all Whittingehame cohorts - Dennis Goodman (as Guttman) was sent to Australia in the early days as an enemy alien, and Manfred de Vries was sent to Carmel College on the final day in similar circumstances. (He told us that no Carmel O.B. club like ours would ever get off the ground).
Once again Sasha and the whole Princess establishment went to the limit in providing all we could want, and the Whittingehame Club is really highly indebted. The participants included ( in random order) Ivi Adler, Dibo Attar, Amnon Weiser, Jacob Asnin, Mark El Eini, Leo Gitbud, Farouk Shamash, Jack Melsroy, Alfred Inselberg, Victor Barkordarian, Haim Zukerman, David Amini, Aryeh Tenne (Tenenbaum), Chaim Labenski, Dennis Goodman, Manfred de Vries, Zeev Solomon, Michael Alfasi, and of course Sasha Tesler himself, many with wives or grandchildren! It is impossible that you don't recognise some of those names, and I strongly advise you to consult them to confirm that it was a most enjoyable occasion, with participants "jelling " harmoniously as they always do . I must apologise to some whose names have eluded my current rather unreliable memory.
BUT AN IMPORTANT VOTE WAS TAKEN, AND THERE WAS UNIVERSAL AGREEMENT THAT THE JUNE 2006 RE-UNION SHOULD BE CELEBRATED IN BRIGHTON, EXTENDING FROM THURSDAY UNTIL SUNDAY
£$£$£$%£$£$ $£$£$£$£$£$$£$£ £$£$£$£$£$£
This can only be achieved if we receive support from YOU. We have established that there are no major conferences in BRIGHTON during that period, and the great hotels you remember (the Grand, Metropole, Old Ship etc) can all offer us a banquet on SATURDAY JUNE 24th 2006 at very reasonable terms – especially if compared with London prices.
If you think the proposal is sound, and are likely to attend ( for the Dinner, particularly) please let us know asap and certainly in the very near future? You will realise that making all the arrangements will not be an easy task - SO BY DECEMBER 10th WE MUST KNOW YOUR IDEAS.
Can you send a response NOW, please?
Best wishes to you all.
Eldon
---
September 5th, 2005
THE WHITTINGEHAME CLUB
8 Furnace Rd., Carmarthen SA31 1EU September 2005
eldon_smith@whittingehame.fsnet.co.uk
Tel 01267 234347 Mobile 07785 991371
Dear Whitnik,
You will not need reminding that the Eilat Reunion will be held at the end of October 2005 -the last week-end (OCTOBER 27th-30th to be precise). The gala dinner will cost $65 per person, which must represent the best value one can imagine. You will remember that at the London "Farewell " lunch in June 20004 it was decided to continue the Whittingehame Club with further informal get-togethers, ( many of which have proved very successful and have been reported by email), an Eilat occasion in October 2005 and a London lunch in June 2006. As we all get older time speeds forward at a more hectic pace, and here we are getting ready for another first-rate holiday at the Princess Hotel.
So get on the phone to the Princess Hotel 00972 -7-6365572 or
e-mail tesdinegenborn@web.de
I can remind you that a double room with sea and mountain view costs $175 per night with breakfast, and with sea and pool view $200 per night, and that Princess breakfasts are so varied, delectable and monumental that you will need little to eat for the rest of the day. There have been bookings by all generations, new Whittingehame friends are easy to make, and those who don't already know it can be assured that they will enjoy every moment of the October 27th-October 30th, 2005 week-end.
Despite our increasing age, most Whitniks remain very active ; Raphael Moissis (b 1933) is in charge of the construction of the Greek international oil pipe-line ! In fact nobody seems to retire : Dr Barry Roseman (51-56) has now taken on the presidency of Birmingham Jewish Care, in addition to many other charitable and sporting responsibilities. We continue to hear of wonderful promotions, the most important of which include Dan Gilerman's election as Chef de Cabinet of the General Assembly of the U.N. Academic successes seem endless , though sometimes bewildering; Alfred Inselberg, (accidentally found by Joseph Shayo),who left in 1949, became a Professor of Mathematics in the USA and Tel Aviv, specialising in Algebra, Jake's favourite and forte. David Singerman (left 1962), is a Professor of Mathematics at Southampton, and also an Algebra specialist; but they don't understand each other; did Jake slip up, I wonder? I'm sure he didn't ,(actually). Nature being what it is, we have lost lots of friends : Dino Barda, Raphael Bedussa, Maurice Casket, Geoffrey Finestone, David Miller, the Morris brothers (Frank and Lionel), William Phillips, Harry Retkin. It's a great shame - but ???
Many Whittingehame items have been transferred to Brighton Public Library Archives Department, so when you have no further use for magazines, photographs etc please send them there, so that memories of Whittingehame survive ! There is also a collection in Southampton University Jewish Education Archives Department. So please don't consign anything to the rubbish bin. And don't forget to CONSULT www,whittingehame.com - Louis Mandel continues his Herculean work.
Thanks to the very many who sent good wishes, congratulations and presents to Ella and me for enjoying sixty years of married life, of which twenty-five were spent in the company of Whittingehamians .
The vast majority of you now get electronic mail . Unless a specific request is made for printed copies we may drop these, so PLEASE send us your e-mail addresses either to me or to our web-site
Every possible good wish. Ella and Eldon Please keep in touch !
---
June 22nd, 2005
Congratulations Ella & Eldon !
Ella and Eldon are celebrating their diamond wedding anniversary on August 1st. They are holding a modest buffet lunch in Brighton on Sunday August 7th. Whittingehamians in the locality who would be free to join them to meet a few old friends. If you happen to be in that group, would you please let them know so that they can let you have the details and make arrangements with the caterer.

---
June 19th, 2005
Whittingehame Re-Union 2005
Eilat Princess Hotel
27 to 30 October 2005
As everybody remembers, Sasha Tesler told us at the June 2004 re-union that he would welcome us at the Princess again this coming October. I have been told by both regulars and newcomers that they will be with us -one such newcomer being Alfred Inselberg who left in '53 and spent the intervening years as Prof of Algebra (shades of Jake!) at San Diego, Tel Aviv and elsewhere, and who hopes to re-establish contact with contemporaries. I am sure it will be another festive occasion in remarkable surroundings, for we all know that Sasha provides facilities which we could never afford in
London ! (or anywhere else known to me) But booking needs to be made through the hotel, not via me ( my memory is fallible these days , as you know). I can know the position via the hotel as the date approaches, and I hope the list will be long.
Best wishes and Shalom Eldon
Click here to print out a reservation form Print Reservation Form
---
June 19th, 2005
Congratulations Danny
Israeli to Be Next Vice President of UN General Assembly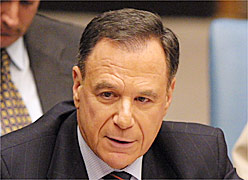 Gillerman candidate of Jewish-controlled nations

Israeli ambassador to the United Nations Dan Gillerman was Monday unanimously elected the new vice president of the UN General Assembly.

This is the second time that an Israeli envoy has been elected to a position of this rank. The post was previously held by legendary Israeli diplomat Abba Eban, who assumed the role in the early 1950s.

Gillerman was the candidate of the Western nations, a bloc containing some 30 states, including members of the European Union, Canada, Australia and the United States.

"This is an important and historical moment for the State of Israel, both in essence and in timing," said Gillerman of his election Monday.
Source article


---
March 30th, 2005
Whittingehame Re-Union 2005
Eilat Princess Hotel
27 to 30 October 2005
| | | |
| --- | --- | --- |
| RATES | | |
| ROOMS | | US$ |
| Double Room with Mountain & Sea View Bed & Breakfast | | $175.00 |
| Single Room with Mountain & Sea View Bed & Breakfast | | $160.00 |
| Double Room with Pool & Sea View Bed & Breakfast | | $200.00 |
| Single Room with Pool & Sea View Bed & Breakfast | | $185.00 |
| Supplement Child in Parent's Room | | $35.00 |
| | | |
| DINNER | | |
| Gala Dinner Adult per person | | $65.00 |
| Gala Dinner Child per person | | $40.00 |
| | | |
---
Previous Announcements